From Pakistan to Madagascar, it seems we are faced with a comparable case of military aided revolutions.
In Pakistan, the Punjab Police practically defied the orders of a Sindhi led Federal Government which wanted to crush an illegal Long March. The Pakistan Army, which is generally dominated by Punjabis and Pathans, refused to confront the Long March led by the opposition leader from the Punjab province, Nawaz Sharif. Nawaz Sharif is known for his sympathies towards Taliban and past links with Osama bin Laden, a historical past which he shares with the Pakistan Army.
In the following op-ed, Asadullah Ghalib compares the 16 March revolution led by Nawaz Sharif in Pakistan with the 16 March revolution in Madagascar led by Andrey Rajoelina.
....
Is General Kayani playing a 'good cop' for certain 'strategic gains'?


BBC Urdu Blog by Hasan Mujtaba
'گُڈ کاپ بیڈ کاپ'
حسن مجتییٰ 2009-03-20, 12:01
ایسا لگتا ہے کہ پاکستان کے لوگوں کے ساتھ آج کل 'گُڈ کاپ بیڈ کاپ' کھیلا جا رہا ہے۔ امریکی کامک کہانی میں مشترکہ تشویش کے لیے جو دو پولیس والے ہوتے ہیں ان میں ایک برا پولیس والا اور ایک اچھا پولیس والا بنتا ہے جب کہ دونوں کا مقصد تفتیش کے مطلوبہ مقاصد حاصل کرنا ہوتا ہے۔

ایسا لگتا ہے کہ پاکستان میں آصف علی زرداری 'بیڈ کاپ' ہیں اور وزیر اعظم یوسف رضا گیلانی 'گڈ کاپ' یا اچھے پولیس والے ہیں۔ اور سب سے بڑا اچھا پولیس والا یا 'گڈ کاپ' آرمی چیف جنرل اشفاق پرویز کیانی بتائے جاتے ہیں جنہوں نے حکومت کی طرف سے گزشتہ ہفتے جرنیلی سڑک اور شاہراہ دستور کے درمیاں جا بجا 'بارہ مئی ٹائپ' کنٹینرز کی دیوار چین کھڑی کیے جانے پر مداخلت کر کے حکومت اور نواز شریف کے درمیان بظاہر کشیدگی کم کروائی۔ جسے سابق آرمی چیف جہانگیر کرامت نے ' کیانی فارمولا' کہا۔
ایک بیڈ کاپ زرداری نے آخر وقت تک چیف جسٹس سمیت جج نہ بحال کرنے کا تہیہ کیا ہوا تھا اور گڈ کاپ یوسف رضا گیلانی نہ فقط 'ایک فرعون کیا لاکھ فرعون ہوں ڈوب ہی جائيں گے' بنے ہوئے نواز شریف کے لیے قابل قبول رہے بلکہ انہوں نے ججوں کی بحالی کا اعلان بھی کیا۔
لیکن کہنے والے کہتے ہیں کہ اصل 'گڈ کاپ' تو جنرل کیانی ہی ہیں اور وہ اس وقت سے گڈ کاپ بنے ہوئے ہیں جب مشرف ملک کا 'بیڈ کاپ' بنا ہوا تھا۔ یہی گڈ کاپ تب اٹک قلعے یا اڈیالہ جیل سے یوسف رضا گیلانی اور پمز یا ضیا الدین ہسپتال سے آصف علی زرداری کی بھی رہائی کے پیچھے اہم ترین 'ریاستی ایکٹر' تھے۔
یہی اہم ترین ریاستی ایکٹر بحیثیت ڈي جی آئی ایس آئی پاکستان کے سینکڑوں لاپتہ لوگوں کی گمشدگیوں کے ذمہ دار ہیں اور تب بھی سادہ لباس جنرلوں میں شامل تھے بشمول باوردی جنرل مشرف جن کے سامنے چیف جسٹس افتخار محمد چوہدری نے ایک بڑی 'نہ' کہہ کر پاکستان کی تاریخ کا ہی رخ موڑ دیا تھا۔ اسی گڈ کاپ نے ہی بینظیر بھٹو سے قومی مفاہمت پر بات چیت کے طویل نششتیں بھی کی تھیں۔
گزشتہ دنوں جب یہ بڑے 'گڈ کاپ' امریکہ کے دورے پر آئے تو کچھ دل جلوں نے یہ اڑایا کہ انہوں نے مشہور ڈیپارٹمینٹل سٹورز 'میسی' سے جو سوٹ خریدے ہیں وہ پہن کر ستمبر میں پھر نیویارک آئيں گے؟ لیکن ستمبر میں تو نیویارک میں جنرل اسمبلی کا سالانہ اجلاس ہوتا ہے! آدمی سوچتا ہے۔
http://www.bbc.co.uk/blogs/urdu/2009/03/post_424.html
....
Madagascar military hands power to opposition leader
(CNN) -- Madagascar's military handed over the reins of the island nation to opposition leader Andry Rajoelina on Wednesday, ending a two-month long political crisis -- but apparently creating a constitutional one.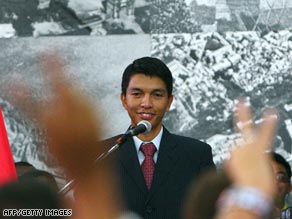 Andry Rajoelina is six years too young to be Madagascar's president under its constitution.
Rajoelina, a former disc jockey turned mayor of Madagascar's capital, declared himself president of a transitional government and his supporters pledged to hold elections in two years.
But Rajoelina, at 34, is six years too young to be president, according to the country's constitution.
Also, the constitution says the head of parliament's upper house must call elections within two months if something happens to the president.
Madagascar's former president, Marc Ravalomanana, ceded power to his military Tuesday after insisting over the weekend that he would remain in control.
Analysts think Ravalomanana had little choice but to step down once he had lost much of the army's support.
The African Union had warned that any power transfer aided by the military would amount to a coup d' etat.

http://edition.cnn.com/2009/WORLD/africa/03/18/madagascar/